A New Find
Some time ago, I located an address directory for the small town of Gernrode in the Harz Mountains from 1905 in the city archives of Quedlinburg. It is only a thin booklet with about 60 pages, but was of great importance for one of my numerous researches in the federal state of Saxony-Anhalt.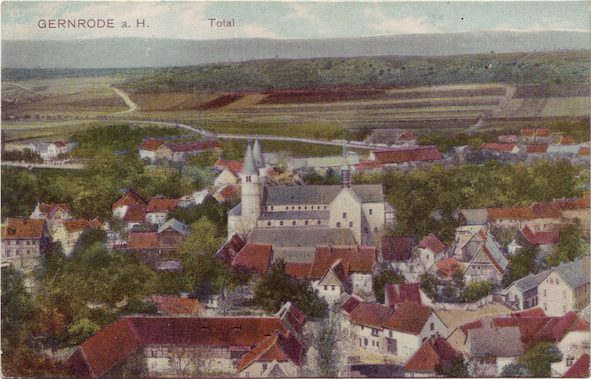 Public
Early examples of address directories date from the late 18th century. They became common during the 19th century and were slowly replaced by telephone directories between the 1920s and 1950s. They have several advantages and disadvantages for genealogical research. Let's start with the good points: They are public sources, meaning you don't have to ask or beg some official to release the information you want, and no privacy periods apply.
What they can tell
Fully developed address directories (e.g., from larger cities circa 1910-1950) have an alphabetically sorted name section and another section by street and house number listing all heads of household living in a house. Other members such as wives, children, servants, or lodgers are not listed. Women can be found only if they remained unmarried or were widowed.
In larger cities, address information may be essential for locating the responsible parish office or registry office. Successive editions of a series of years may give an indication of when a person moved or died, etc. In certain cases, the interpretation of address book entries can provide a whole range of inferences and open up further research possibilities. This is especially true for cities with a dense tradition of annually published directories.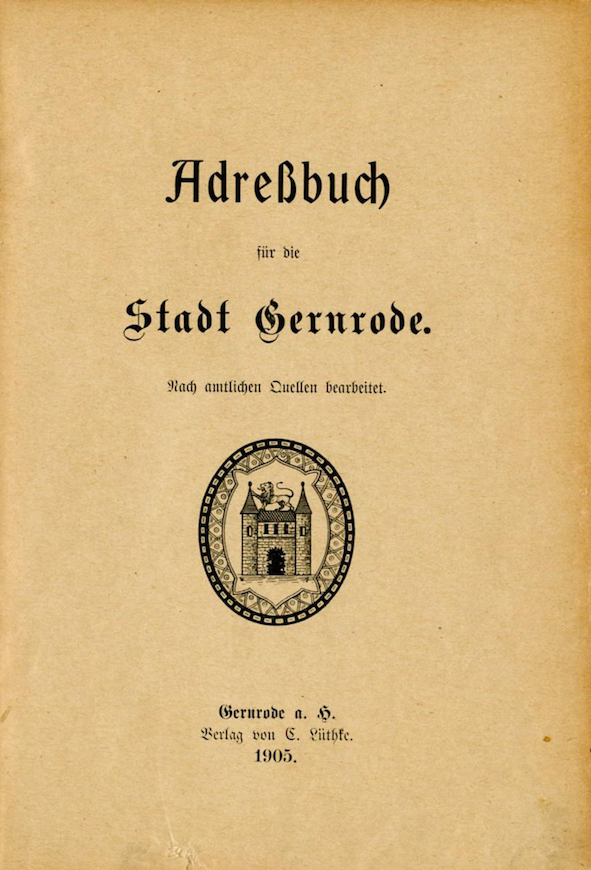 An Overview?
The University and State Library of Saxony-Anhalt in Halle has digitized and uploaded a whole series of address books, mainly from Halle, but also from other towns in the state (>Link). This is more complicated for smaller towns, and even more so for rural areas. In other words, the source situation for Saxony-Anhalt is anything but clear. Therefore it is all the more important to know which directories are available – or not – and where to find them.
The Association for Computer Genealogy
A good aid in finding existing directories is a listing from the Association for Computer Genealogy. There are several categories that can be searched, listing them a) alphabetically by location and b) by year. There is also a category of directories by federal state, so for Saxony-Anhalt you can also look there sorted by alphabet. Some of the directories are available on more than one platform, with advantages and disadvantages, the one for Halberstadt for example: familysearch.org has it for free, but ancestry.com offers an additional database query function.
Places and Districts
Many city directories also include surrounding areas. For example, the Halle 1892-1904 address books also list heads of households in neighboring villages.
District directories were published for some districts in the late 19th and early 20th centuries, but usually at greater than annual intervals. They referred – of course – to contemporary historical districts, not modern ones.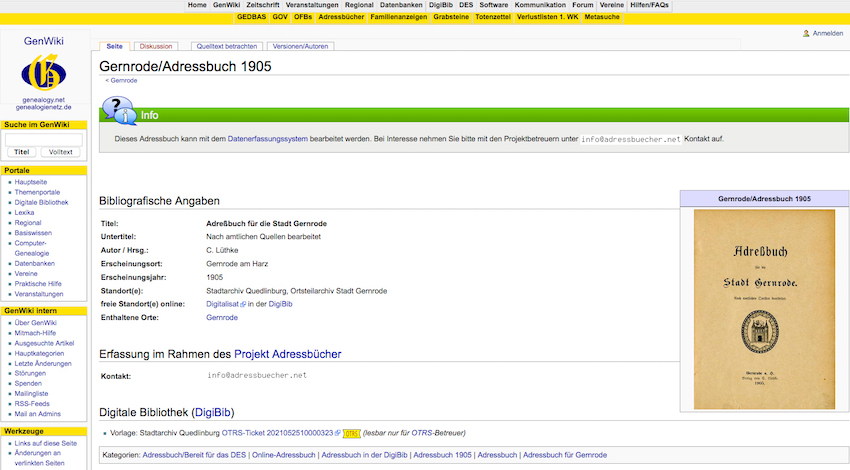 Inquire!
No copies of many of the once-existing address books for smaller towns or rural districts, often printed in relatively small numbers, have probably survived. If they do exist, they are most likely to be found in district or town archives, and possibly in local libraries. So it may be worth inquiring there.
Online
This is what I did in the case of Gernrode. The 1905 directory is not physically available in the Quedlinburg archive either, but it is in the form of computer scans. They were probably once made from the copy of a private owner. The current archive employee could not say for sure. But he was so open and helpful that he made the scans available to the Association for Computer Genealogy at my request. So, since recently, they are available there online to all interested family researchers to whom this source would otherwise have remained unaccessible or even unknown.
You can find the Gernrode directory from 1905 here.
For Saxony-Anhalt, please also read my post Jewish Communities in Saxony-Anhalt